Savage 110 BA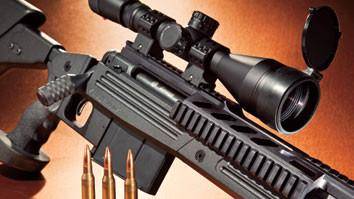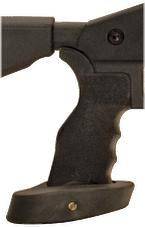 The Savage 110 BA is a bolt-action sniper/tactical rifle manufactured by the Savage Arms Company. The rifle is designated with an "LE" code; "Law Enforcement". All 110 BA series rifles are configured with AccuTrigger, matte-blued barreled action, fluted heavy free-floating, muzzle brake, oversized bolt handle, external box magazine (holding 5 - 6 rounds), magpul adjustable stock, adjustable pistol grip, and three swivel studs for sling and bipod mounting.
The Savage 110 BA is similar to the Savage Model 10 rifles (10 BAS-K and 10 BAT/S-K). Whereas the Model 10 rifles are short actions rifles the 110 BA uses a long action.
Specifications
Weight
(15.75 lb)
Length
(50.5 in)
Barrel length
(26 in)/ (29.5 in) with muzzle brake
Cartridge
.338 Lapua Magnum
.300 Winchester Magnum
Action
Bolt-action
Effective range

1,100 metres (1,203 yd) (.300 Winchester Magnum)
1,500 metres (1,640 yd) (.338 Lapua Magnum)

Feed system
5-round external box magazine (.338)/6-round external box magazine (.300)
Sights
None but includes a picatinny 18" 6061 T6 rail system.
The information contained on this page is unclassified, approved for public dissemination and is released under CC-BY-SA Licensing Agreement.