Sikorsky SH-60 Seahawk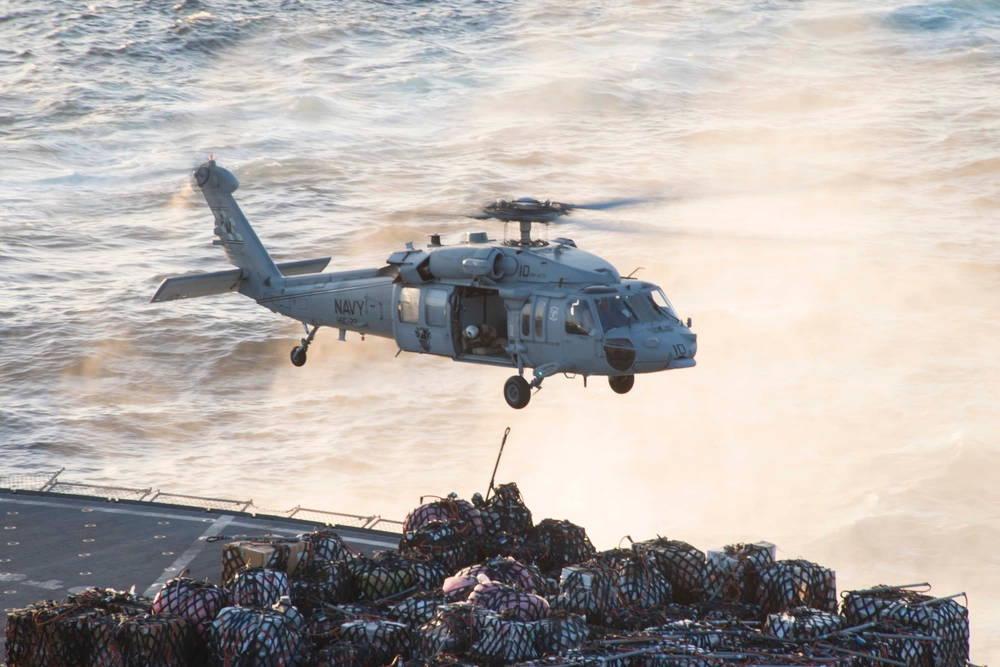 The Sikorsky SH-60/MH-60 Seahawk (or Sea Hawk) is a twin turboshaft engine, multi-mission United States Navy helicopter based on the United States Army UH-60 Black Hawk and a member of the Sikorsky S-70 family. The most significant airframe modification is a hinged tail to reduce its footprint aboard ships.
The U.S. Navy uses the H-60 airframe under the model designations SH-60B, SH-60F, HH-60H, MH-60R, and MH-60S. Able to deploy aboard any air-capable frigate, destroyer, cruiser, fast combat support ship, amphibious assault ship, or aircraft carrier, the Seahawk can handle anti-submarine warfare (ASW), anti-surface warfare (ASUW), naval special warfare (NSW) insertion, search and rescue (SAR), combat search and rescue (CSAR), vertical replenishment (VERTREP), and medical evacuation (MEDEVAC). All Navy H-60s carry a rescue hoist for SAR/CSAR missions.
Role
Multimission maritime helicopter
Manufacturer
Sikorsky Aircraft
First flight
12 December 1979
Introduction
1984
Status
In service
Primary user
United States Navy
Produced
1979–present

Unit cost

US$42.9m (MH-60R in FY2012)
US$28.1m (MH-60S in FY2012)


Developed from

Sikorsky UH-60 Black Hawk
Variants
Sikorsky HH-60 Jayhawk
Mitsubishi SH-60
SH-60B Seahawk
The SH-60B maintained 83% commonality with the UH-60A. The main changes were corrosion protection, more powerful T700 engines, single-stage oleo main landing gear, replacing left side door with fuselage structure, adding two weapon pylons, and shifting the tail landing gear 13 feet (3.96 m) forward to reduce the footprint for shipboard landing. Other changes included larger fuel cells, an electric blade folding system, folding horizontal stabilators for storage, and adding a 25-tube pneumatic sonobuoy launcher on left side. An emergency flotation system was also installed in the stub wing fairings of the main landing gear on both sides of the aircraft.

Five YSH-60B Seahawk LAMPS III prototypes were ordered. The first flight of a YSH-60B occurred on 12 December 1979. The first production version SH-60B achieved its first flight on 11 February 1983. The SH-60B entered operational service in 1984 with first operational deployment in 1985.

The SH-60B LAMPS Mk III is deployed primarily aboard frigates, destroyers, and cruisers. The primary missions of the SH-60B are surface warfare and anti-submarine warfare.
The SH-60B carries a complex system of sensors including a towed Magnetic Anomaly Detector (MAD) and air-launched sonobuoys. Other sensors include the APS-124 search radar, ALQ-142 ESM system and optional nose-mounted forward looking infrared (FLIR) turret. It carries the Mk 46, Mk 50, or Mk 54 torpedo, AGM-114 Hellfire missile, and a single cabin-door-mounted M60D/M240 7.62 mm (0.30 in) machine gun or GAU-16 .50 in (12.7 mm) machine gun.
A standard crew for a SH-60B is one pilot, one ATO/Co-Pilot (Airborne Tactical Officer), and an enlisted aviation warfare systems operator (sensor operator). Operating squadrons are designated Helicopter Anti-Submarine Squadron, Light (HSL).
The SH-60J is a version of the SH-60B for the Japan Maritime Self-Defense Force. The SH-60K is a modified version of the SH-60J. The SH-60J and SH-60K are built under license by Mitsubishi in Japan.

Specifications (SH-60B)
Data from Brassey's World Aircraft & Systems Directory, Navy fact file, and Sikorsky S-70B

General characteristics
Crew: 3–4
Capacity: 5 passengers in cabin, slung load of 6,000 lb (2,700 kg) or internal load of 4,100 lb (1,900 kg) for B, F and H models; and 11 passengers or slung load of 9,000 lb (4,100 kg) for S-model
Length: 64 ft 8 in (19.75 m)
Rotor diameter: 53 ft 8 in (16.35 m)
Height: 17 ft 2 in (5.2 m)
Disc area: 2,262 ft² (210 m²)
Empty weight: 15,200 lb (6,895 kg)
Loaded weight: 17,758 lb (8,055 kg) ; for ASW mission
Useful load: 6,684 lb (3,031 kg)
Max. takeoff weight: 21,884 lb (9,927 kg)
Powerplant: 2 × General Electric T700-GE-401C turboshaft, 1,890 shp (1,410 kW) take-off power each
Performance
Never exceed speed: 180 kn (333 km/h; 207 mph)
Maximum speed: 146 kn (270 km/h; 168 mph)
Range: 450 nmi (518 mi or 834 km)at cruise speed
Service ceiling: 12,000 ft (3,580 m)
Rate of climb: 1,650 ft/min (8.38 m/s)
Armament
Up to three Mark 46 torpedos or Mk-54s,
AGM-114 Hellfire missile, 4 Hellfire missiles for SH-60B and HH-60H and MH-60R, 8 Hellfire missiles for MH-60S Block III.
AGM-119 Penguin missile (being phased out),
M60 machine gun or, M240 machine gun or GAU-16/A machine gun or GAU-17/A Minigun
Rapid Airborne Mine Clearance System (RAMICS) using Mk 44 Mod 0 30 mm Cannon
The information contained on this page is unclassified, approved for public dissemination and is released under 
CC-BY-SA Licensing Agreement
.