Strider MARSOC SMF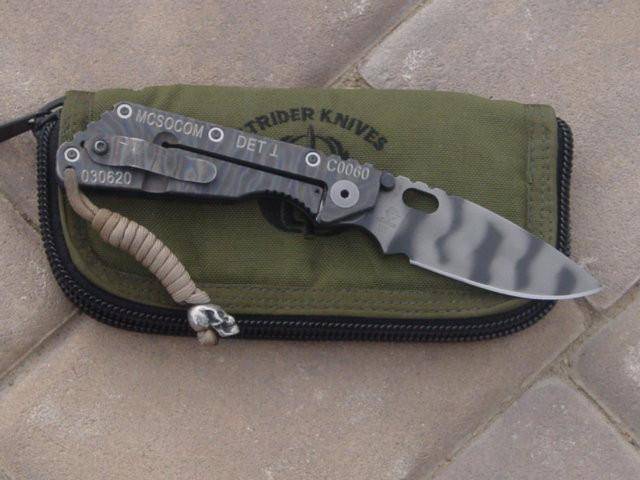 The Strider MARSOC SMF is a framelock folding knife that was specifically developed for Detachment 1, the first SOCOM unit of theUnited States Marine Corps. The Strider SMF was the first knife issued to an individual Marine Corps unit in over 60 years and the first tactical folder issued within the USMC.
The SMF knife is manufactured by Strider Knives of San Marcos, California. The knife features a 4 in (10 cm) drop point flat ground tiger striped blade of CPM S30V steel. The handle is composed of a fire anodized titanium frame, oil impregnated bronze bushings, an oversized pivot screw 0.19 in (0.48 cm) in diameter, and a textured G10 glass-reinforced plastic scale with an incorporated back-spacer. The National Stock Number (NSN) for the SMF knife is 1095-01-531-5015.
The latest version of this knife (generation 2 and above) includes the Hinderer Lockbar Stabilizer, a mechanism designed by custom knife-maker Rick Hinderer and licensed for use by Strider. The lock bar stabilizer is a metal disc contained in the titanium lock bar which is designed to preserve the life of the frame-lock by preventing over-travel and flex. The original knives designed for the Marines' SOCOM unit in 2003 do not include this feature, but subsequent versions do.
Specifications
Length
9 in (23 cm)
Blade length
4 in (10 cm)
Blade type
Drop point S30V Steel
Hilt type
G10 and 64AVL Titanium
Scabbard/sheath
Cordura Pouch or Pocket Clip
The information contained on this page is unclassified, approved for public dissemination and is released under CC-BY-SA Licensing Agreement.