Stryker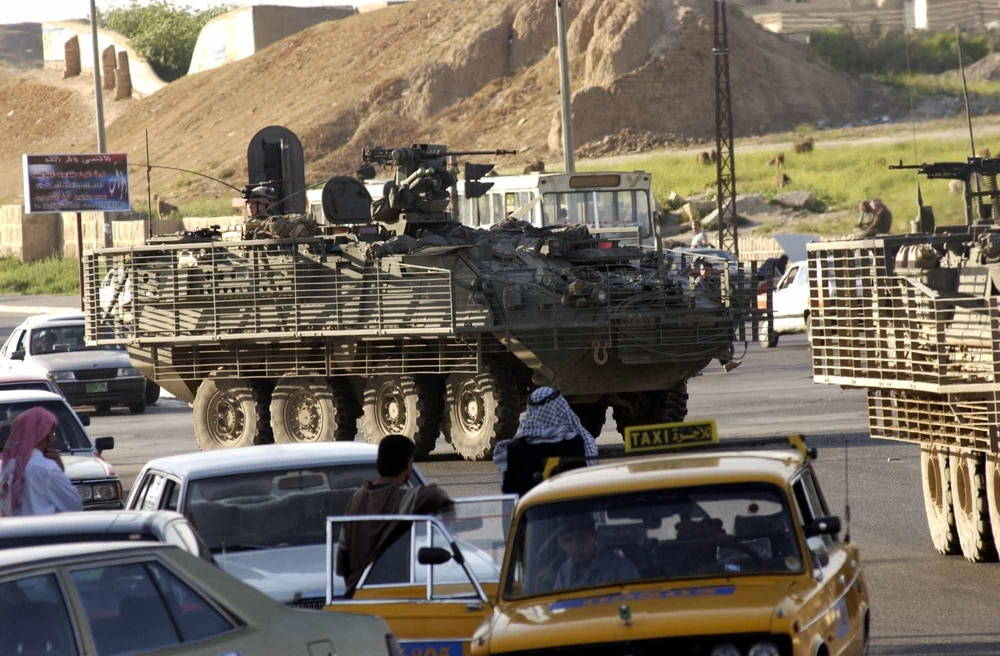 The IAV Stryker is a family of eight-wheeled, armored fighting vehicles derived from the Canadian LAV III and produced by General Dynamics Land Systems for the United States Army. It has 4-wheel drive (8x4) and can be switched to all-wheel drive (8x8).

The vehicle is named for two American servicemen who posthumously received the Medal of Honor: Private First Class Stuart S. Stryker, who died in World War II and Specialist Four Robert F. Stryker, who died in the Vietnam War.
The Stryker is based on the LAV III light-armored vehicle, which in turn was based on the Swiss MOWAG Piranha III 8x8.
The vehicle comes in several variants with a common engine, transmission, hydraulics, wheels, tires, differentials and transfer case. The M1130 Command Vehicle and M1133 Medical Evacuation Vehicle have an air conditioning unit mounted on the back. The medical vehicle also has a higher-capacity generator. A recent upgrade program provided a field retrofit kit to add air conditioning units to all variants, and production started in 2005 on the Mobile Gun System mounting an overhead GDLS 105 mm automatic gun.
The Stryker family of vehicles fill a role in the United States Army that is neither heavy nor light, but rather an attempt to create a force that can move infantry to the battlefield quickly and in relative security. Brigades that have been converted to Strykers have primarily been light, or, in the case of the 2nd Cavalry Regiment, unarmored Humvee-based cavalry scouts. For these units, the addition of Strykers has increased combat power by providing armor protection, a vehicle-borne weapon system to support each dismounted squad, and the speed and range to conduct missions far from the operating base.
Stryker units seem to be especially effective in urban areas, where vehicles can establish initial security positions near a building and dismount squads on a doorstep.

The Stryker relies on its speed and communications for the majority of its defense against heavy weapon systems. It is not capable of engaging heavily armored units, relying on communication and other units to control threats outside of its classification. One variant is armed with anti-tank missiles.
Brigades equipped with the Stryker are intended to be strategically mobile (i.e., capable of being rapidly deployed over long distances). As such, the Stryker was intentionally designed with a lower level of protection compared to tracked vehicles like the M2 Bradley, but with much lower logistic requirements.
Specifications
Weight
ICV: 16.47 tonnes (18.16 short tons; 16.21 long tons)
MGS: 18.77 tonnes (20.69 short tons; 18.47 long tons)
Length
6.95 m (22 ft 10 in)
Width
2.72 m (8 ft 11 in)
Height
2.64 m (8 ft 8 in)
Crew
Varies, usually 2
Passengers
Varies
Armor
7.62 mm/14.5 mm resistant

Main
armament
M2 .50 cal. machine gun or MK19 40 mm grenade launcher mounted in a Protector (RWS) remote weapon station
Secondary
armament
.50-cal M2 MG and M240 7.62 mm MG (MGS)
Engine
Caterpillar C7
260 kW (350 hp)
Power/weight
ICV: 15.8 kW/t (19.3 hp/sh tn)
Suspension
8×8 wheeled
Operational
range
500 km (310 mi)
Speed
100 km/h (62 mph)
The information contained on this page is unclassified, approved for public dissemination and is released under CC-BY-SA Licensing Agreement.