USCGC Eagle (WIX-327)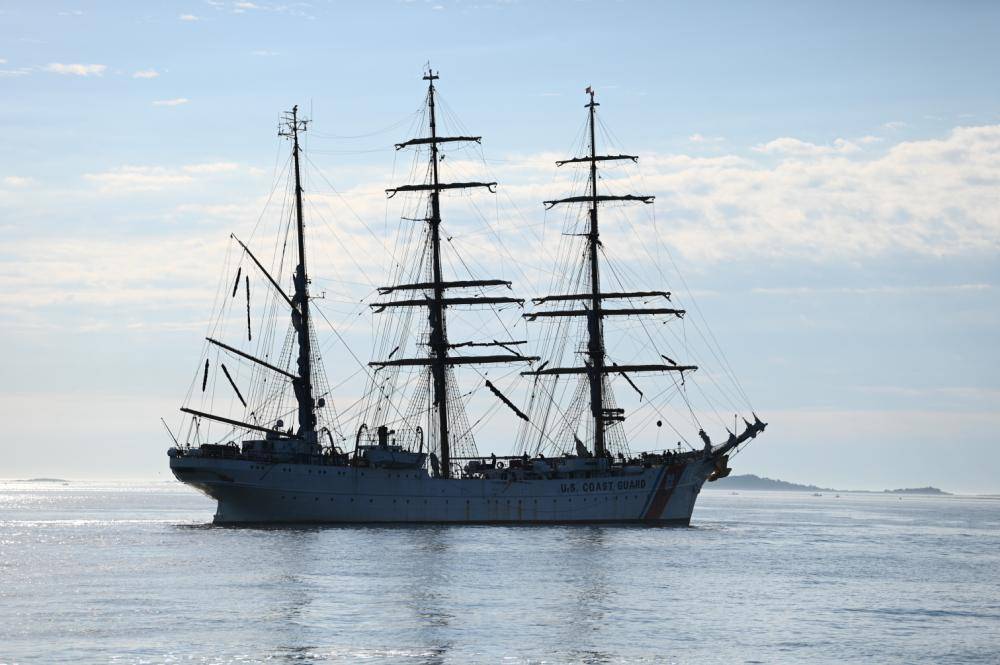 The USCGC Eagle (WIX-327) (ex-SSS Horst Wessel) is a 295-foot (90 m) barque used as a training cutter for future officers of the United States Coast Guard. She is the only active commissioned steel hulled sailing vessel in American military service. She is the seventh U.S. Navy or Coast Guard ship to bear the name in a line dating back to 1792. Each summer, Eagle conducts cruises with cadets from the United States Coast Guard Academy and candidates from the Officer Candidate School for periods ranging from a week to two months. These cruises fulfill multiple roles; the primary mission is training the cadets and officer candidates, but the ship also performs a public relations role. Often, Eagle makes calls at foreign ports as a goodwill ambassador.
Class & type:
Barque
Displacement:
1,784 long tons (1,813 t) full load
Length:
295 feet (90 m) overall
234 feet (71 m) waterline
Beam:
39 feet (12 m)
Draft:
17.5 feet (5.3 m) full load
Propulsion:
1 × Caterpillar (D399) diesel engine(1980)
Sail plan:
Foremast: 147.3 feet (44.9 m)
Mainmast: 147.3 feet (44.9 m)
Mizzenmast: 132.0 feet (40.2 m)
Sail Area: 22,300 square feet (2,070 m2)
Speed:
17 knots under sail
10 knots under diesel
Range:
5,450 nautical miles at 7.5 knots under diesel
range under sail unlimited
Complement:
19 officers, 56 crew,
175 cadets and instructors
Notes:
Current Skipper is Capt. Wes Pulver, USCG
"America's Tall Ship"
The Eagle has a standing crew of six officers and 56 enlisted; on training missions, she carries on the average a complement of 12 officers, 68 crew, and up to 150 cadets. Each year, she takes one long training cruise to the Caribbean, the Pacific Coast, or Europe, and two shorter cruises along the U.S. East Coast.
During her many years of service, Eagle has traveled to ports throughout the United States and overseas. Among her various cruises,Eagle has participated in various Tall Ship races and events including the various incarnations of Operation Sail, most notably the American Bicentennial OpSail '76.
In September 1987, she undertook a yearlong cruise to Australia from her home at the U.S. Coast Guard Academy. During this cruise Academy instructors were embarked to conduct the cadets' courses while underway. In 2005, as part of the Trafalgar 200 International Fleet Review in the Solent off southern England, Eagle was one of a number of tall ships from several nations to be reviewed by Queen Elizabeth II, along with the U.S. Navy warship USS Saipan (LHA-2). Later that summer, Eagle returned to Bremerhaven for the first time since World War II, to an enthusiastic welcome.
In March 1998 Eagle trained her first and only enlisted members of the Coast Guard otherwise known as November-152 boot camp company. The members flew from Cape May, NJ to Roosevelt Roads Naval Station in Puerto Rico. After just 3 days of training Eagle headed out to Fort de France, Martinique, La Guaira, Venezuela, Cartegena, Colombia then finally returned home to New London for boot camp graduation.
In 2010 she participated in Velas Sudamerica 2010, an historical Latin American tour by eleven tall ships to celebrate the bicentennial of the first national governments of Argentina and Chile.
The information contained on this page is unclassified, approved for public dissemination and is released under CC-BY-SA Licensing Agreement.