Virginia-Class Submarine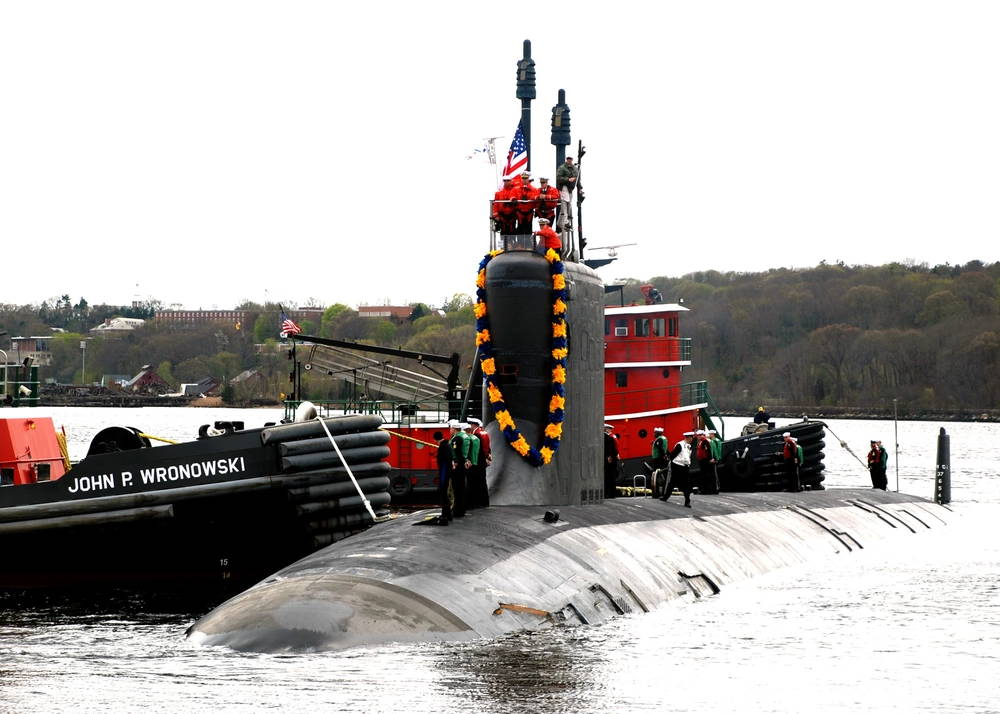 The Virginia-class, also known as the SSN-774-class, is a class of nuclear-powered fast attack submarines (hull classification symbol SSN) in service with the United States Navy. The submarines are designed for a broad spectrum of open-ocean and littoral missions. They were conceived as a less expensive alternative to the Seawolf-class attack submarines, designed during the Cold War era, and they are planned to replace the older of the Los Angeles-class submarines, twenty of which have already been decommissioned (from a total of 62 built). The class was developed under the codename Centurion, renamed to NSSN (New SSN) later on. The "Centurion Study" was initiated in February 1991.
Name:
Virginia
Builders:
General Dynamics Electric Boat
Newport News Shipbuilding and Drydock Company
Operators:
 United States Navy
Preceded by:
Seawolf-class attack submarine
Cost:
$2,707.1m per unit (FY2014)
$50 million per unit (annual operating cost)

Built:
2000-present

In commission:

2004-present
Building:
5

Planned:
30 (see text)
Completed:
10
Active:
10
General characteristics
Type:
Attack submarine
Displacement:
7,900 metric tons (7,800 long tons)
Length:
377 ft (115 m)
Beam:
34 ft (10 m)
Propulsion:
S9G reactor 40,000 shp (30,000 kW)
Speed:
+25 knots (29 mph; 46 km/h)
Range:
unlimited
Endurance:
unlimited except by food supplies
Test depth:
+800 ft (240 m)
Complement:
135 (15:120)
Armament:

12 × VLS (BGM-109 Tomahawk cruise missile) tubes
4 × 533mm torpedo tubes (Mk-48 torpedo)

27 × torpedoes & missiles (torpedo room)

Innovations
The Virginia class incorporates several innovations not previously incorporated into other submarine classes.

Photonics masts
Instead of a traditional periscope, the class utilizes a pair of AN/BVS-1 telescoping photonics masts located outside the pressure hull. Each mast contains high-resolution cameras, along with light-intensification and infrared sensors, an infrared laser rangefinder, and an integrated Electronic Support Measures (ESM) array. Signals from the masts' sensors are transmitted through fiber optic data lines through signal processors to the control center. Visual feeds from the masts are displayed on LCD interfaces in the command center.

Propulsor
In contrast to a traditional bladed-propeller, the Virginia class uses pump-jet propulsors (built by BAE Systems), originally developed for the Royal Navy's Swiftsure class submarines. The propulsor significantly reduces the risks of cavitation, and allows quieter operation.
Improved sonar systems
Virginia class submarines are equipped with a bow-mounted spherical active/passive sonar array, a wide aperture lightweight fiber optic sonar array (three flat panels mounted low along either side of the hull), as well as two high frequency active sonars mounted in the sail and keel (under the bow). The submarines are also equipped with a low frequency towed sonar array and a high frequency towed sonar array. The chin-mounted (below the bow) high frequency sonar supplements the (spherical/LAB) main sonar array enabling safer operations in coastal waters as well as improving ASW performance.

The USS California will be the first Virginia-class submarine with the advanced electromagnetic signature reduction system built into it, but this system will be retrofitted into the other submarines of the class.

Other improved equipment
Fiber optic fly-by-wire Ship Control System replaces electro-hydraulic systems for control surface actuation.
Boats
Block I
Modular construction techniques were incorporated during construction. Block I boats were built in 10 modules with each submarine requiring roughly 7 years (84 months) to build.

USS Virginia (SSN-774), commissioned and in service.
USS Texas (SSN-775), commissioned and in service.
USS Hawaii (SSN-776), commissioned and in service.
Block II
Block II boats were built in four sections rather than ten sections, saving about $300 million per boat. Block II boats (excluding SSN-778) were also built under a multi-year procurement agreement as opposed to a block-buy contract in Block I, enabling savings in the range of $400 million ($80 million per boat). Improvements in the construction process also enabled shorter construction periods, for example, USS New Mexico (SSN-779) required one million fewer work hours to build than USS North Carolina (SSN-777).

Block III
SSN-784 through approximately SSN-791 are planned to make up the Third Block or "Flight" and began construction in 2009. Block III subs will feature a revised bow with a Large Aperture Bow (LAB) sonar array, as well as technology from Ohio-class SSGNs (2 VLS tubes each containing 6 missiles). The horseshoe-shaped LAB sonar array will replace the spherical main sonar array which has been used on all U.S. Navy SSNs since 1960.

North Dakota (SSN-784), named 15 July 2008, laid down 11 May 2012 and is contracted for delivery in August 2014.
John Warner (SSN-785), named 8 January 2009, laid down 16 March 2013, and is contracted for delivery in August 2015.
Illinois (SSN-786), construction has begun in March 2011.
Colorado (SSN-788)
Indiana (SSN-789)
South Dakota (SSN-790)
Delaware (SSN-791)
Block IV
No block IV submarines are yet under contract. The first block IV submarine is not scheduled to be procured until FY14. The long-lead-time materials contract for SSN 792 was awarded on April 17, 2012, with SSN 793 and SSN 794 following on December 28, 2012. The U.S. Navy has awarded General Dynamics Electric Boat a $208.6 million contract modification for the second fiscal year (FY) 14 Virginia-class submarine, SSN-793, and two FY 15 submarines, SSN-794 and SSN-795.With this modification, the overall contract is worth $595 million. Block IV will consist of 9-10 submarines. Based on the planned split between block IV and block V boats, the block IV procurement should comprise the following hull numbers.
The information contained on this page is unclassified, approved for public dissemination and is released under CC-BY-SA Licensing Agreement.